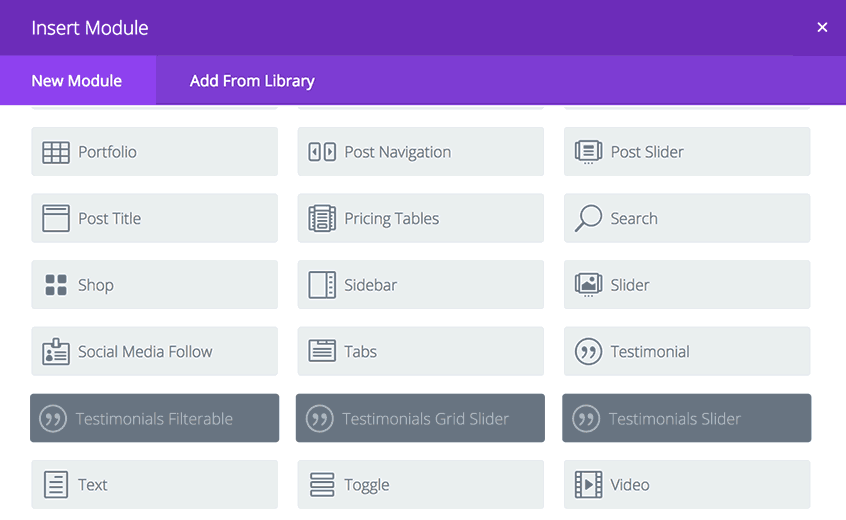 Testimonial Slider is a highly customizable Divi Plugin that will help you add testimonials received from customers, partners or valuable users and display them on your website in minutes. Testimonials are effective in converting visitors into valuable customers. This Divi plugin makes it easy to display testimonials in a sliding or grid form.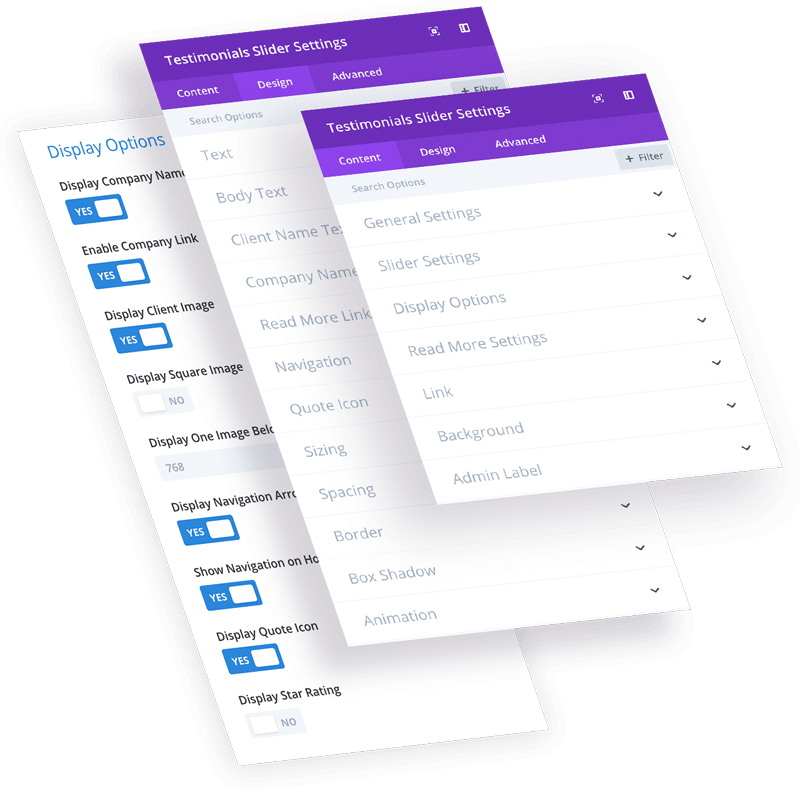 Divi Builder Modules & Widget
The Testimonial Slider shows testimonials submitted by your happy customers in a clean, fully responsive and beautiful slider or filterable grid/list format. After the plugin is installed, 3 new Divi Builder modules and a widget are added to your site. You can place testimonials on any page you choose using the advanced Divi Builder modules, or you can display reviews in a sidebar using a widget. Both methods are fully customizable and easy to use.
Adding, editing, and managing testimonials has never been so easy. Testimonial Slider creates a custom tab called "Testimonials". Here, you enter the customer's name, company link, profile picture and review. Testimonials can be grouped in categories and displayed on different pages. Show your potential clients what others have to say about your business!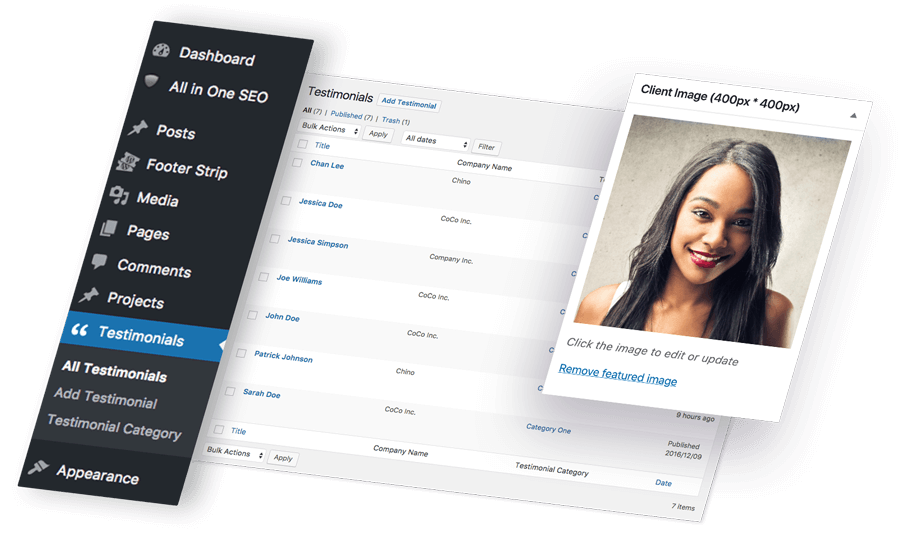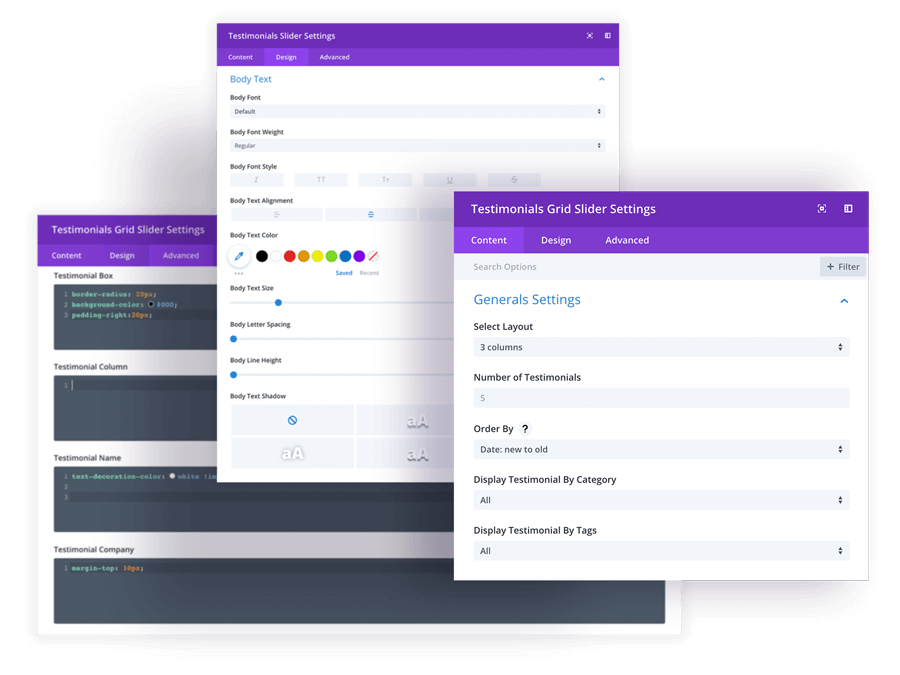 Testimonial Slider modules and widget provide unlimited customization options. Apply new styles to your testimonials section with ease. You can edit fonts, colors, change background color and more. Advanced users can even add custom styles in the Custom CSS tab! Build beautiful testimonials sections with minimal effort!
Full Integration with Leading Form Plugins!
Do you want to have lots of testimonials? Letting your customers leave a review using a simple form embedded in your website is a step in the right direction! Our Testimonial Slider is integrated with leading form builder plugins such as Caldera Forms, Gravity Forms and Contact Form 7. Gather more positive reviews for the Testimonial Slider!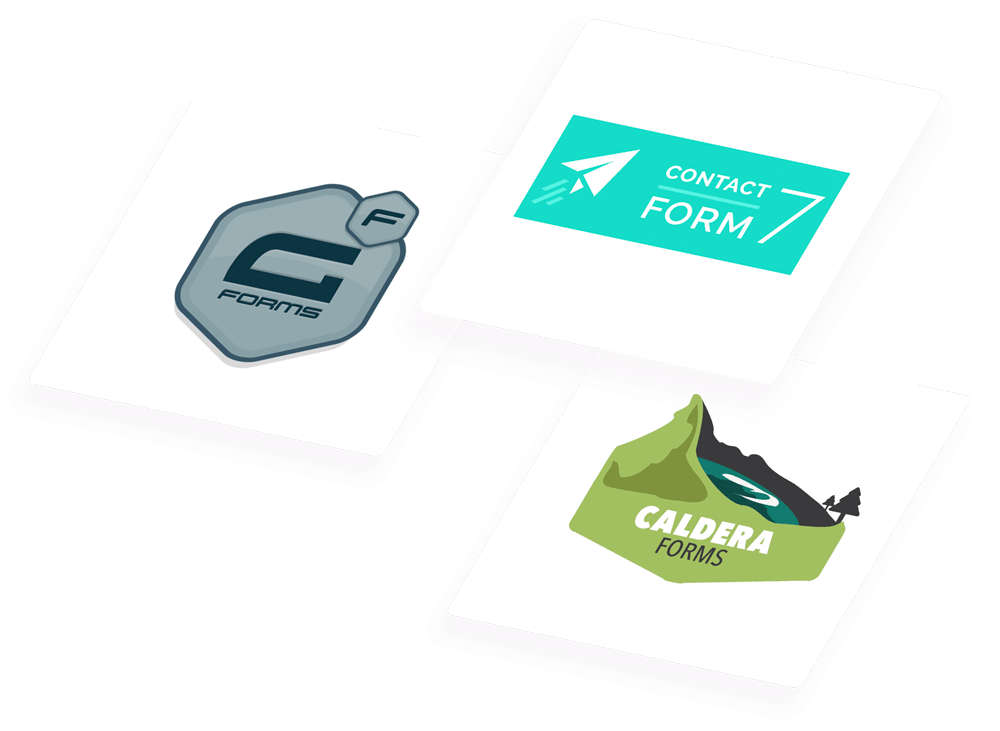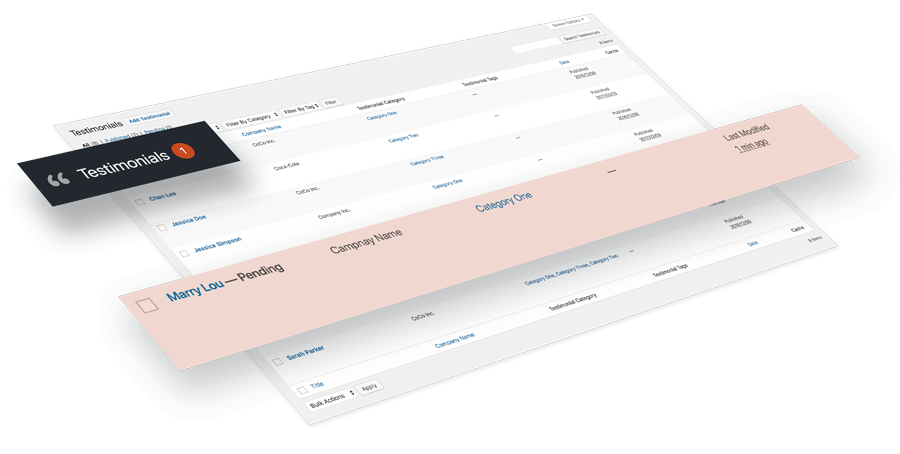 New Testimonial Notification
Would you like to be notified right in your WordPress dashboard every time someone leaves a testimonial? You can now receive testimonials by means of three WP Forms plugins! And the WordPress Notification function will let you know whenever anyone leaves a review. These testimonials will go live only when you accept them for publication.
If you make your customers so happy that they write long and detailed praises of your services, congratulations! In case you were worrying about how best to display these long testimonials, here is our solution. You can set a given number of characters which will be displayed in the slider, and add a "Read More" button to access the rest of the text.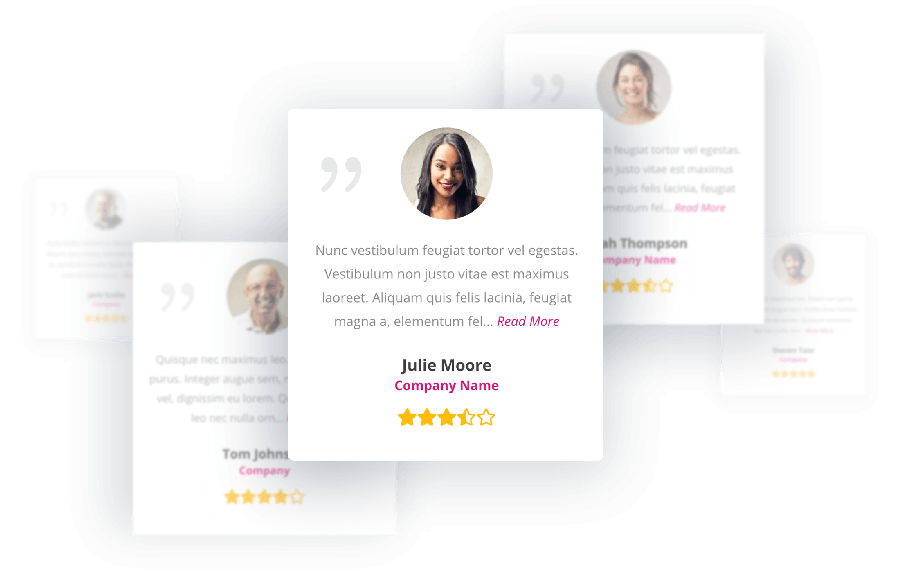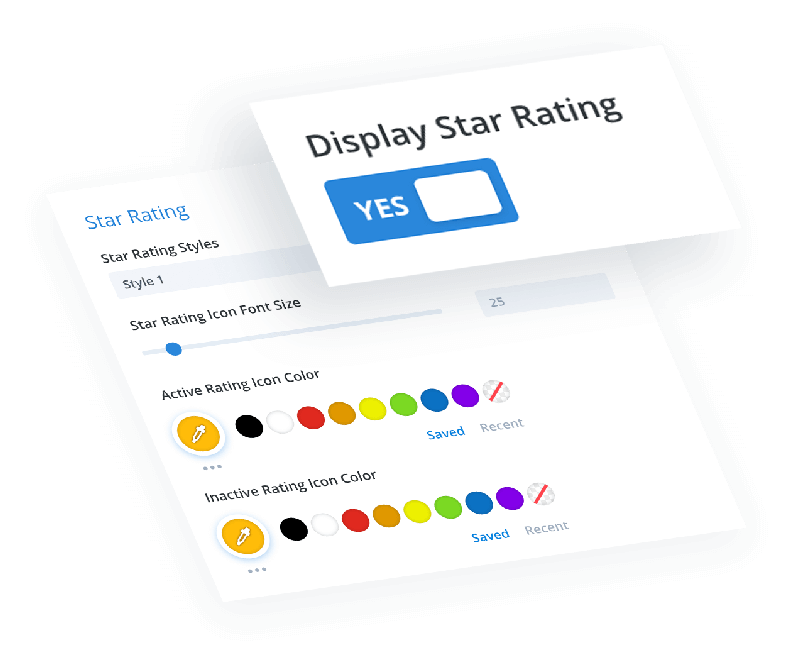 You can now get 5-star testimonials from your happy clients! This new function allows you to add star-rating to your testimonials. We've created two styles to choose from, but you can also use the Custom CSS field to stylize this element as you wish. You can also change the size and color of the stars.

Powerful Features
Simple to use, but provides unlimited customization options. Customize it any way you want. It's so simple!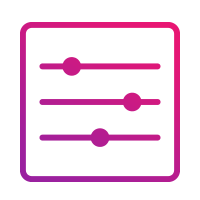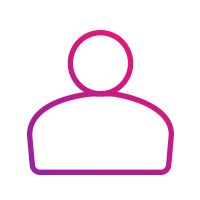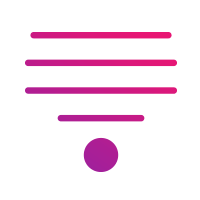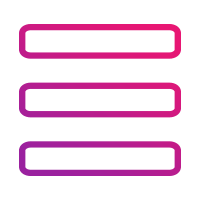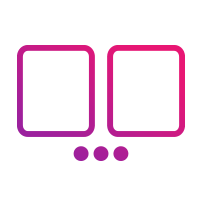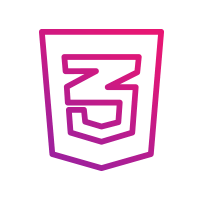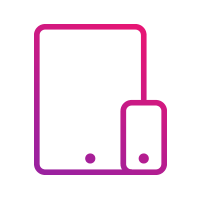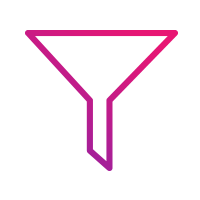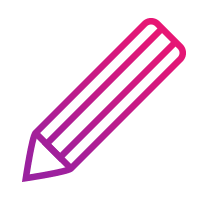 What Our Customers are Saying...
Our agency loves how professional Divi Testimonial Slider looks on client websites. It's very flexible and easy to use. The fact it comes with custom modules for the Divi Builder allows us to style testimonials quickly to match the design of any client website.
Josh Rohrback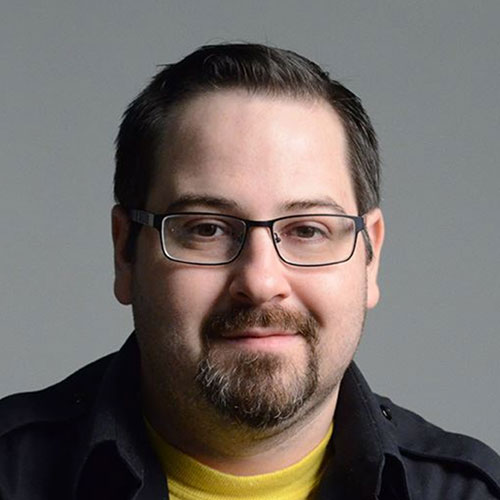 Excellent plugin. I really appreciate the flexibility of the plugin. It has great opportunities to show your testimonials. Furthermore, the support is very good. I got a response within minutes of my initial request. Thanks a lot!
David Morawietz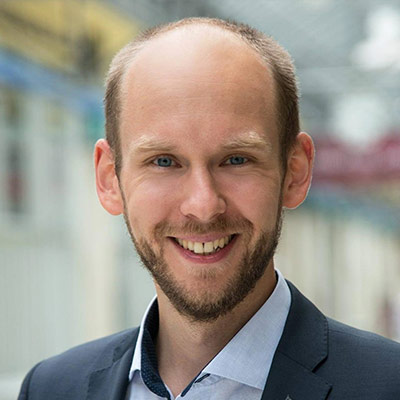 Easy to use and with many design options and settings, all integrated into Divi. What more could you want? If you have any problems, the support will be happy to help you. Thumbs up!
Andi Portman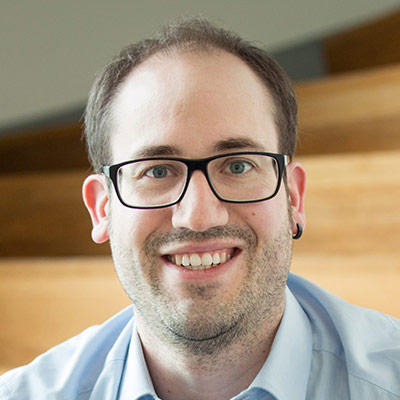 Love it! The best testimonial slider for Divi that I've been able to find! Easy to use and with just a few simple customizations, provides a great looking slider that all of my clients go nuts over! Thanks for this quality product!
Don Lisefski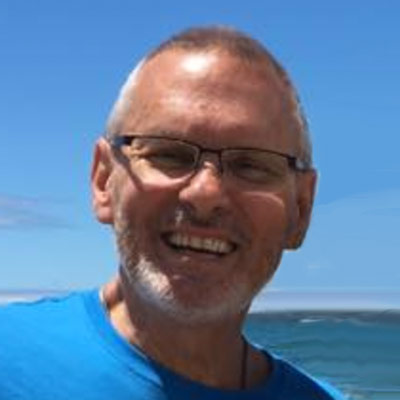 Pricing
Simple, all-inclusive pricing. No annual fees!
Regular License
Use for one domain only
Lifetime updates
One-time fee, no annual payments
6-month Support
Use on single project
Extended License
For unlimited domains use
Lifetime updates
One-time fee, no annual payments
6-month Support
Use on unlimited website
Enjoy Displaying Your Testimonials With Unlimited Styles
Plugin Road Map
We are working hard to make this plugin as powerful and customizable as possible. Check out what is coming next.
Improving Usability
We have reorganised all options and added even more customisation settings. All them are now intuitively grouped and easily accessible.
100% COMPLETED
Element Repositioning
Now you can control in what order testimonial elements are displayed. You can display name on top, star rating on the bottom and more!
100% COMPLETED
Visual Builder Integration
The Testimonial Slider is now integrated with the front-end Divi Visual Builder. It means you can customise your testimonial modules and see changes live!
100% COMPLETED
3D Coverflow Effect
Coverflow Effect, a new feature that allows you to display testimonials in a grid view with the 3D effect.
100% COMPLETED
Adding React Code
When the react code will be added, we will also be able to edit Testimonial Slider modules using the latest back-end Divi Builder. 
100% COMPLETED